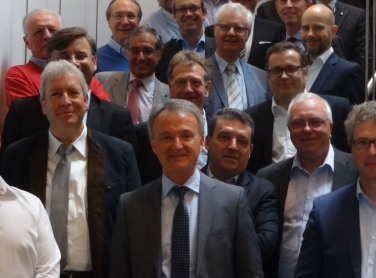 Dear Colleagues,
It is not unrecognised that from time to time, EFFC members have doubts, which can be compared with the doubts that many people in the EU have.
Is it right to continue to participate? Is our financial contribution worth it?  Can't we handle things on our own?
My answer is: Yes it is right! And No, you cannot handle things on your own.
None of our individual countries is in a position to deal with the world's economic, demographic, social and political challenges, nor are individual foundation specialists able to influence the construction challenges in Europe by themselves.
Only with one voice and a strong common "language" can we influence and guide our future. Only by presenting a united view can we influence governments, clients and our own member companies.
We require the voices of both the larger members and the smaller members – the long established Federations and the new ones, the large contractors and the smaller independents.
Having served as Officer for many years in the EFFC, and having visited a few National Federations as President recently, I can see our potential to improve the industry for all through intensifying our networking activity.
National Federations are working individually on issues like Health, Safety and Environment best practices, on safe working platform initiatives, on ground risk assessments and each National Federation has achieved a different level of development.
All of these topics are the common topics of the EFFC and their working groups. Joining these efforts together will bring a better, safer industry for everyone. It will help each National Federation and their Members to promote these initiatives with their authorities, clients and contractors.
I encourage all National Federations to take the initiative. Approach your fellow colleagues from neighbouring countries. They have the same difficulties as you. They may work on exactly the same topics as you do and there is a lot that can be learned and shared.
There is huge potential in Europe for the EFFC.
Although the unequal prosperity and the wealth gap cannot be denied, the need for infrastructure and urban development will be the major growth factors to drive the EU economies.
The annual growth of the European Economy is projected to be approximately 3%. We can foresee huge infrastructure projects, which will inevitably provide growth to the construction industry by more than 5%.
For our industry, we have an important role in the implementation of modern and sustainable infrastructure projects. It will benefit from the growth of the construction industry even in a larger scale. As Special Foundations is needed more and more for the application of the most challenging construction projects in difficult ground and tight urban locations, we can consequently expect a growth in Europe of about 8%.
The EFFC can therefore look forward to good opportunities in Europe. However, a strong Europe is fundamental to allowing the EFFC Member companies to take these opportunities. Only a united Europe has a strong future and the future starts with construction!
So please let me invite you to continue our joint efforts in making the special industry services that we EFFC stands for, better and better in terms of Quality, Sustainability and on time delivery.