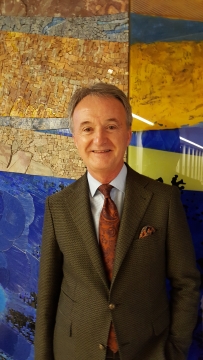 Being the President of the EFFC now for a period of 365 days, it's a good moment to summarise the achievements at half way though my official time in this role.
When I took over the Presidency of EFFC in September 2015 on behalf of the German National Federation, I did stipulate to direct my efforts to the following issues:
Continue the excellent work of EFFC Past Presidents.
Lead the federation into the future – Strategy 2020
Encourage networking between the Members
Attract one new member to the federation
Leading a Federation that consists of 16 National Federations, representing 16 European Countries, is a complex exercise, as each country has its own agenda, its own characteristics and its own economical and political challenges. But we have however one thing in common, that is to jointly promote the interest of our Industry.
The speciality of our "Special Foundations" industry is characterised by the fact, that each and every project is a unique service performance with risks that are assumed as reasonable as possible, but which cannot be excluded completely. Our work is being performed in the subsoil of partially unknown characteristics and the service product is not visible in most of the cases. So our biggest challenges are to achieve the trust of our clients through our professional performance in accordance with the latest standards, to good quality and within the agreed time and with zero accidents.
This is something that we are striving for irrespective of the countries circumstances. The efforts of the 3 working groups build an integral part of our developments. Each National Federation has different needs as to the standards and technical requirements of their members. We have achieved participation of representatives from all National Federations in our working groups, which helps us to fulfil the needs better and to recognise different levels of experiences and capabilities.
In addition I can witness the efforts of a few national federations at a regional level, to find solutions to sub topics by small joint tasks groups in a much faster way, helping to contribute to the efforts on larger scale.
The networking of our members depends tremendously on the ability to communicate, to exchange information. The new website has proven to provide the necessary platform for this and to attract the interest, not only of our members but as well of our Industry Partners visiting the site. The number of active users has increased by 933%.
Still it's necessary to mention that the fundamental principle of all networking lies in the willingness of people to constantly think what and how can I contribute to putting information and news into the system. And only thereafter see, what information is available in the system for me.
We hope to reach out to our Young Professionals with the newly introduced section. They are the future of our industry and we have to work to our upmost to attract their participation and interest in our efforts as a Foundations Industry. We have to continue to be more open to modern communications tools and social media platforms.
Contact with companies in countries, who are not yet a member of the EFFC, have been established. Talks have started in to encourage them to join in and help promote our common interests. The general situation in Europe unfortunately is not of help in supporting this initiative.
Looking ahead to the 365 remaining days in the second period of presidency, the biggest challenge will rest in the broader strategic development of the Federation.
As much as we are striving to improving the standards and quality of our services, we are depending to a great degree on our Industry Partners, such as, but not limited to, the manufacturer and supplier of modern equipment, the producer and supplier of good quality materials, and the consultants and testing agencies, who are helping us to prove that we have delivered the quality service or product to our clients.
It's without doubt, that we need to incorporate our Industry Partners more and more in our efforts to further develop Special Foundations. We cannot deliver our services without them. Therefore we are well advised to let them become or more integral part of our Industry and our efforts to promote Special Foundations.
As every person goes through various developmental phases in their life, as every company from time to time has to spend efforts to strategically develop, the world is constantly moving forward. As a Federation we have to do similar homework in our development to be ready for the challenges of the next decade.
I strongly believe that it's time to let our close Industry Partners become more part of the Federation's work, both in our Working Groups as well as in our general efforts to promote the interest of our Industry.
Leading EFFC for a period of 2 years is a great privilege to me and an extraordinary experience. The work being done by all the Members of EFFC is representing Europe at its best and I am still hoping to see these efforts getting a higher degree of recognition in Brussels in the future.