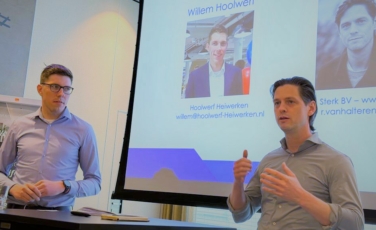 The Jong NVAF presented their approach to involving early careers people in the Netherland's Federation and the industry generally. Willem Hoolwerf and Robert van Halteren explained that the Jong NVAF was created to make a bridge to participating in the wider NVAF (Dutch Federation). The group look to encourage early careers people to join a network of young (under 40 or so) professionals within the ground engineering industry. A critical part of this is having a future facing agenda that encourages their 60-70 participants to think about how they would like their industry to develop. The Jong NVAF's members over time are join the committees of the NVAF and bring these ideas with them and a valuable fresh perspective. In this way the NVAF is ensuring its own role in leading on the standards and issues of the industry is sustained.
The JNVAF organise a mixture of formal events involving visits to factories, sites and offices with more social occasions involving outdoors activities etc. In this way they have created a natural destination for young talent in the industry to engage and interact.
The EFFC Executive Committee asked Willem and Robert for their advice on attracting young people into the industry. They explained that there are no easy solutions to this problem, but that offering four day working weeks when working away and flexible working arrangements should be considered in order to attract high-performing young people.
If you have an early careers group, or would like to start one please contact the EFFC and we can put you in touch with others who have done this in their own country. It is our hope to have more early careers people attending our meetings and bringing their energy and insight to our issues.