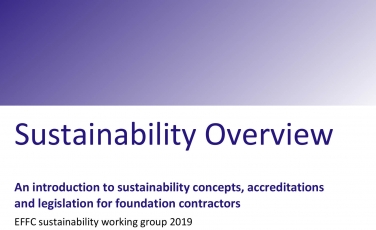 The term sustainability is a topic with ever-growing importance across all industries worldwide. For foundation contractors, it's an emerging priority that can no longer be ignored. Many companies are investigating cost-saving or efficiency-based improvements, and Clients are often requesting for sustainable solutions or sustainability reporting. Legislation is also a large driver of sustainability, actively forcing sustainability improvements such as lower carbon consumption and reporting.
In order to react to all these drivers, foundation contractors need a basic understanding of sustainability, as well as what sustainability means for their company activities which is new, unknown territory for many companies.
As a reaction to the increased importance of this topic, the European Federation of Foundation Contractors have created a new working group to focus on the issues and importance of sustainability in the geotechnical industry. In turn, they have created an overview, specifically for ground engineers to help understand sustainability and the positive impact it seeks to create.
Sustainability Overview. An introduction to sustainability concepts, accreditations and legislation for foundation contractors, is the first guidance document, created by EFFC Sustainability Working Group. It's a 18 page technical reference point report which provides an introduction to a number of key concepts, terminology, accreditations and areas of legislation relevant for foundation contractors in Europe. The Working Group shall issue an overview of the common sustainability challenges and are looking at a road map for contractors to transform themselves into a sustainable business.
To view and download the document in its entirety please click EFFC Sustainability overview_English.