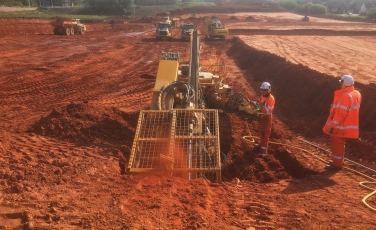 Aarsleff Ground Engineering have been contracted by McLaughlin and Harvey Construction to complete piling work for an new IKEA superstore, which is being built on land to be shared with potential residential housing in Exeter, just off Newcourt Way near Sandy Park. The land, which is 115,882.00sq metres in length, is bound to the south by a residential construction site and current residential development. The site is also bound to the east by a railway with arable agricultural land beyond. For some people in Cornwall, the new store will be less than 50 miles – or an hour's drive away, saving them the longer trip to Cribbs causeway in Bristol.
Aarsleff are installing 1040no 6-10m, 32mm hollow self-drilling soil nails with a sacrificial drill bit to a 70° slope made up of Dawlish Sandstone, faced with a structural steel mesh cladded with a facing mesh and filled with a graded stone. The nails will be installed with Aarsleff's own Klemm 806 drill rig. The small gabion baskets will be filled with locally supplied stone. Both the gabion baskets and the soil nails have maximised the land available for IKEA to build upon.
Aarsleff have been working to an extremely tight deadline which has required close coordination across the teams on site.
Aarsleff started work on the project in April 2017 and finished in early June 2017. The superstore is due to open in Spring 2018.