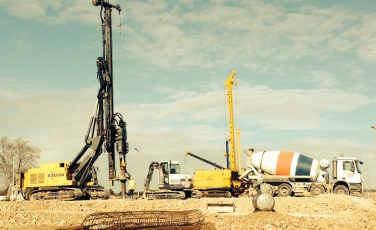 Keller Fondations Spéciales were recently sub-contracted by Eiffage, who are the main contractor to work on the A9 Highway enlargement in Montpellier, France.
Vinci Autoroutes, the client, decided to increase the width of this highway section by 25km, due to the intensity of the traffic.
With a contract value of €1,422,000, Keller Fondations Spéciales was in charge of the ground improvement by rigid inclusions for the part of the project which was awarded to Eiffage.
Keller Fondations Spéciales performed rigid inclusions on several locations of the projects for different types of bridges, retaining walls and other types of foundations.
The depth of these rigid inclusions was between 4m and 18m with a diameter of 34 cm. The different types of rigs which worked on this site included LIEBHERR LRB 125, ENTECO 6050, LIEBHERR LB 16 with top vibrator or rotary heads. During the project, Keller Fondations Spéciales made 60,000lm of rigid inclusions and used 5000m3 of concrete.
The project which will overall cost 150 million euros started in July 2014 and is due to be finished by September 2017.