At the beginning of July FIEC published their response to the European Commission's new Circular Economy Action plan.
For those who are new to the sustainability landscape, a Circular Economy Action plan focuses on closing the loop on linear product life cycles (See figure) so that all waste produce is turned back into something which can be used again. The circular economy focuses on using less raw materials and reducing waste to landfill. This means recycling all suitable materials, increasing the lifespan of products and reusing products.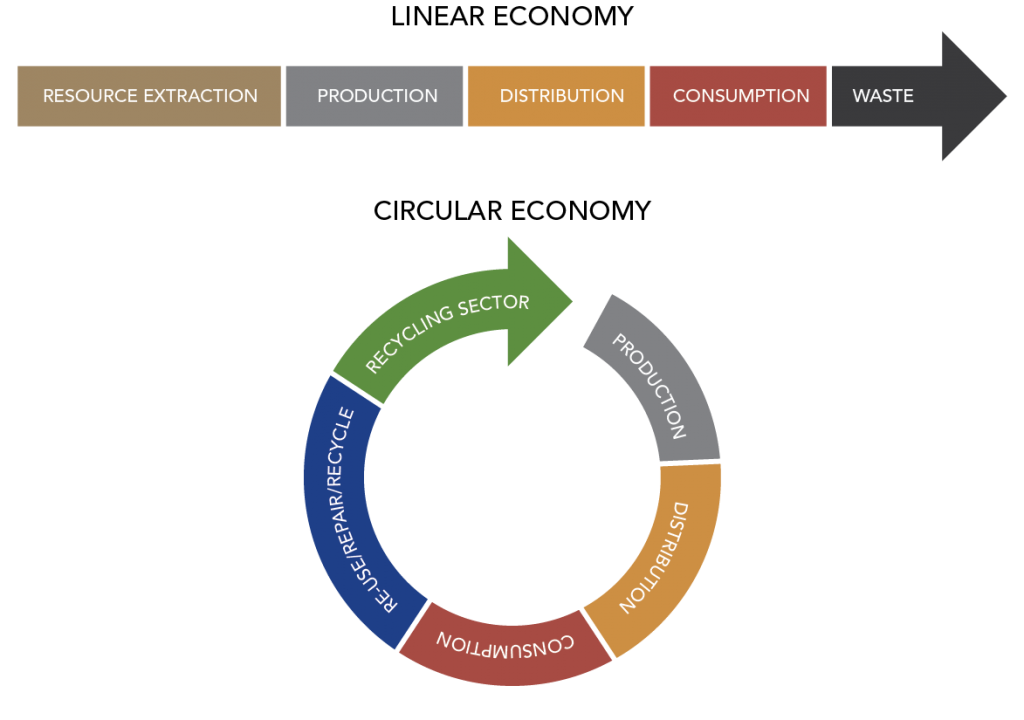 Closing the loop – a linear vs circular product life cycle from Unterfrauner et al. 2017
The EFFC Sustainability working group collaborated with FIEC on their position paper to ensure that the geotechnical industry was fairly represented. Many of our revisions were included in the final paper; for example, the reference to "deep foundations" was a direct result of the Sustainability working group, who were concerned about the degree of focus on "buildings" instead of the entire "built environment". The working group also recommended that the action plan should create sector-specific targets for recycling, the use of recycled materials and waste production. It was agreed that this reflected the diverse waste streams created by each part of the construction sector, allowing for fair, and realistic, target setting.
So how could this impact geotechnical engineers?
It could result in changes to the materials we use and the solutions we offer. An emphasis on recycling and reusing could result in the use of recycled aggregate or using more PFA (Pulverised Fly Ash) and GGBS (Ground Granular Blast Furnace Slag) rather than OPC (Ordinary Portland Cement) in cement mixes. On top of this, focusing on increasing our products lifespan could incentivise the reuse of foundations. This will require the implementation of monitoring equipment in piles as well as keeping records on their quality, so that piles can be reused on brownfield sites.
With the European Green Deal starting to impact European policy, contractors should anticipate that sustainable action plans like this will start to influence client and legislative requirements. It is crucial that we continue to play a part in sustainability discussions so that we can shape future policy for our specialist sector.
CLICK HERE TO VIEW FIEC'S POSITION PAPER ON THE EUROPEAN COMMISSION'S CIRCULAR ECONOMY ACTION PLAN
If you are interested in getting involved with the work of the EFFC Sustainability WG, please contact effc@effc.org for more information.