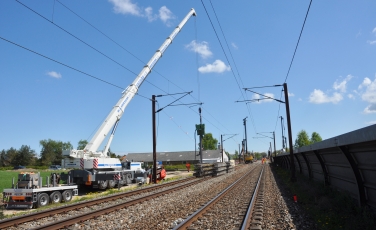 Each year, construction company MJ Eriksson A/S plans a major maintenance check-up for their vibratory hammers and hydraulic power packs. This means that all foundation equipment is brought to a repair site at the same time. Foundation equipment has a lot to endure as soil conditions can be very tough. This stresses the need for the equipment to be in excellent shape.
Every year, around the same date, the international service engineer from Dieseko Group travels to Denmark for this major check-up. Dieseko Group supplies foundation equipment to MJ Eriksson. The manager of the foundation equipment develops a tight schedule to make sure all equipment is available for the maintenance service check-up. Even vibratory hammers and power packs that are currently on a job site are transported to the repair site.
Once the equipment is collected at the site, the comprehensive check-up starts. Critical parts of the vibratory hammers, like bearings, hose packages, bolts and the motor are examined and replaced if necessary. The power packs get a full service check-up as well. Maintenance is expensive, but leaving machines without maintenance is far more costly. The service engineer makes notes in the log book, which is an important guidance for the repair company during the year and for the service engineer during the yearly check-up. In case MJ Eriksson needs to know the status of one of the machines, it can be looked up in the log book.
Keeping the foundation equipment in good condition is a challenge. As the machines have a lot to endure, it's not always possible to prevent a breakdown. Most of the machines are on job sites on a regular basis, so there is not always an opportunity to take good care of the machines.
MJ Eriksson has found from experience that the life cycle of their equipment is extended by the maintenance check-up, so the equipment can be used for a longer period. The annual check-up of foundation equipment means MJ Eriksson experience less downtime and fewer repairs throughout the year.