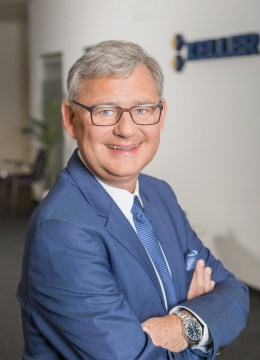 I'd like to start this address by thanking my colleagues in welcoming me as the new President of the EFFC. I'm incredibly honoured and excited to lead the membership at this transitional time. As a Federation, we are facing some big challenges but I'm confident that if we continue to work together, collaborate with our neighbours and put lessons learnt into practice, we will continue to make positive changes within our industry.
For those who aren't familiar with my background, I have worked in Ground Engineering for Keller for over 25 years. I'm currently the BU Manager (South East Europe and Nordic) which covers over 10 countries across Europe. I'm also the current President of the National Austrian Federation (VÖBU) and have held this post since 2018.
I initially joined the EFFC in 2011 as a member of the Contracts Working Group. I became an officer of the Federation in 2016 working to support the ambitions of Past Presidents Hans-Joachim Bliss and Jose Candela. I now hope to use this platform to build upon their successes and ensure positive change within our industry.
As President, I'm planning to focus my attention on five key goals over the next two years.
INTENSIFY COOPERATION WITH THE NATIONAL FEDERATIONS
At present, I feel there is limited communication between the National Federations which can be improved to facilitate a better working relationship. Over the next two years, I'd like the EFFC to enable better learning between organisations, enhance working corporation and unite on the issues which cross borders.
FOCUS ON WORKING GROUPS
I'd like us to ensure that the good work the EFFC produces is relevant for our National Federations and ensure that membership participation continues to remain active. It's also imperative that information, whether it be guidance, meeting outcomes or working group activities, are passed down the chain so the work we do is benefitting those who need it most. Likewise, I'd also like our National Federations to become more involved with our initiatives and bring their national issues to us; there are often shared solutions which can benefit us all.
WORKING PLATFORM – COOPERATION WITH DFI
Working platforms are a global issue and we're extremely pleased to be cooperating with the Deep Foundations Institute on this issue. The guide features a clear process for colleagues to follow so they can successfully address the common issues. Over the course of the next 2 years, we'd like to see more EFFC users use the guide so they can ultimately improve the issues surrounding rigs on site.
DRIVER LICENSE FOR RIG OPERATORS – IN COOPERATION WITH FIEC
Once this initiative is complete, I feel it will be a huge achievement for the EFFC. Having a universal licence will make a big difference to contractors wishing to work across borders, and whilst there is still a long road ahead, I'm confident that with the support of the National Federations, FIEC and the EU, that we can work with our prospective stakeholders and governments to establish this scheme and make a real success of it.
DIGITISATION – NEW WORKING GROUP
Digitalisation of our industry is likely to revolutionise the way that we work with our customers and clients, as well as working with our teams on site. The EFFC Officers and I are currently reviewing whether the Federation could benefit from a Digital Working Group to set out what our industry wants and needs and ensure our interests are properly promoted and protected.
I'll look forward to working with you all over the next two years and welcome any comments or suggestions that will benefit the ground engineering industry for the better.
Andreas Körbler
February 2020